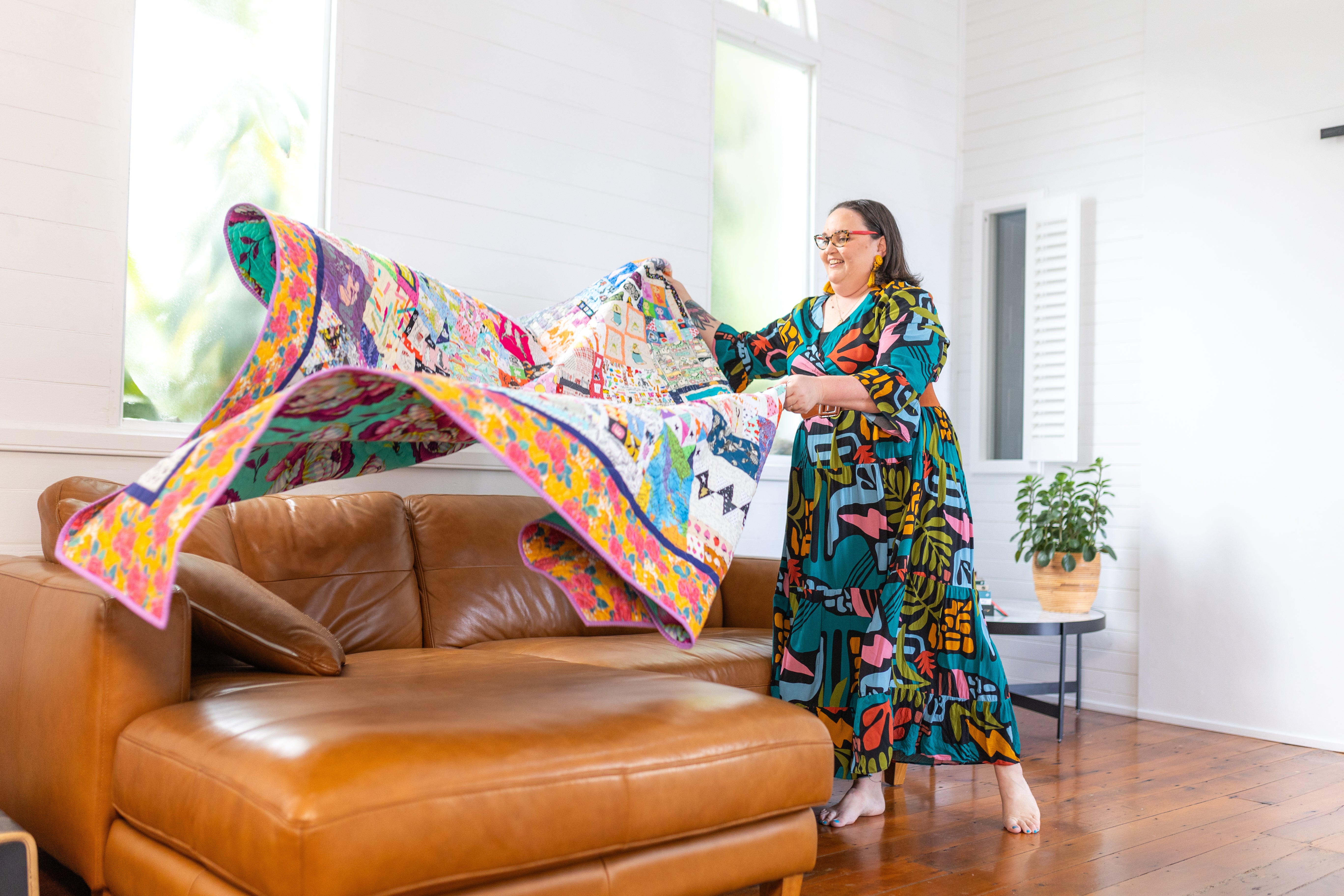 CURATED QUILTING SUPPLIES FOR THE JOYOUS CREATIVE.
Don't take our word for it
★★★★★

I have just finished my first cot quilt I'm hooked.

Gordon Burgess

Queensland, Australia
★★★★★

Ange's love of quilting is infectious and it shows in her quilt designs and the quilting events she hosts. She works hard to make sure information included in her patterns is clear, easy to understand, and results in a beautiful quilt at the end. Also love that Ange shares different ways to create her 100 Days patterns, with different techniques so that it's accessible to all quilters.

Kristy Lea

Queensland, Australia
★★★★★

Wonderful customer service.

Joyce Fuller

Indiana, USA
Let customers speak for us
Such a sweet pattern
I can't wait to get started. I watched Dave's Craftroom video and it looks like so much fun!
Maple & Eucalyptus
I started sewing the Maple & Eucalyptus 100 blocks quilt about a week ago. I have 35 blocks done so far. Instructions and diagrams are very easy to follow. I have learned a lot about how I sew. My first few blocks were off a bit, so I went back and made sure that my 1/4" seam were correct, and yes by doing this, it corrected the blocks. Ironing is another big factor, and I have learned to iron correctly, and make sure my blocks are flat. I can't wait to put all these blocks together and get the quilt done. Thank you Angie and Karen for this fun skill builder quilt. The picture below
OUR FREQUENTLY ASKED QUESTIONS:
Digital files are delivered to your inbox within 10 minutes of your order completing.
Look for an email from Sendowl.
Don't forget to check your spam/junk folders.
We do! Shipping rates will be calculated at checkout.

We have a US based warehouse for some of our inventory so we can ship them directly within the US so you don't have to wait!
🐨 Don't worry Aussies, we have one in Australia too!
We do! We'll send you your supplies where ever you are in the world.
(Some item exclusions apply for sections of the EU.)
Alas, we do not.
We do however have the occasional studio pop-up days. Be sure to subscribe to our newsletter to be notified of our next one.
Yes we do. It's 25cm x Width of Fabric. When asked we always recommend a 50cm - 75cm cut if you're just adding to your stash. This gives you enough for a scrappy quilt palette if pulling from stash or for fussy cutting special patchwork blocks.
To save time and confusion, we'll cut what we do have of your order and then refund what we do not.

If you'd prefer us to contact you, please let a note at checkout.